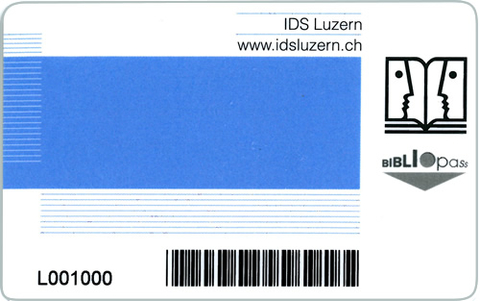 The Campus Card and the Lucerne ZHB library card can be used with the copying machines. If you don't have a Campus Card you can buy a copy card from the information desk for CHF 10.00. These cards have no credit on them, so you'll need to add some (there is a load-up machine on the ground floor) before using it for the first time. You can make single copies with a library copy card, which you can also obtain from the information desk.
Fees
A4 b/w
CHF 0.10 per copy/print
A4 color
CHF 0.40 per copy/print
A3 b/w
CHF 0.20 per copy/print
A3 color
CHF 0.80 per copy/print
If you need to print some documents, you can do so using any inhouse multifunction copying machine with your Campus Card. WebPrint is an online service that lets you print documents straight from a personal computer without installing a print driver. However, you can only use it on the ZHB Unilu network.
WebPrint – printing for students with their own device (German only)
You can also print straight from a USB stick: You'll need a Campus Card and the document must be PDF.
The four multifunction copying machines at the Uni/PH Building library can:
- Scan and save documents direct to your personal computer using an online service
Scanning to PC (German only)
- Save documents to your USB stick
How to save to a USB stick (German only)
Copyright notice (German only)
The Uni/PH Building library has two book scanners (one behind the information desk and another next to the doctoral reading room). Scanning is free, and you can save your scans to a USB stick.
Copyright notice (German only)
In each photocopying room there are three mobile scanners which you can take to your library workspace. You don't need to borrow these from the library. You can download the required software to your notebook, or borrow one of our ZHB notebooks, which already have the scanning software installation file on the desktop.
Location of photocopying rooms (1.A18 / 1.A05)
Copyright notice (German only)